[ 他送的花 . 第一次 ]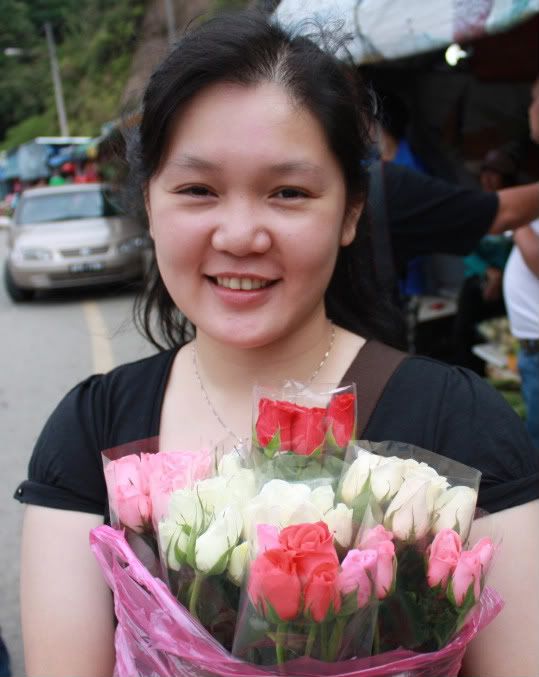 We've been together for 5 years, he never gives me any bouque before. When I first know him, he said it's not his character to buy flower for girls. Well, that time I was thinking how come this person so stubbon and like so egoness. I even thought may be he was just joking.
Then when we started, I find he is actually telling the truth. He never give me any flower, even 1 stalk. Irregardless my brithday, our anniversary, valentine's day.. No nothing at all.
Last month, we went to Cameron Highland with his friends. Everybody knows that Cameron is famous of its fresh vegetables and flowers, cheap and nice. And almost everybody that going to Cameron will buy flowers. But with my 5 years experience, I never expect him to buy any for me. But then, it's really a surprise.
The first day in Cameron, we went pasar to buy some vege for the night steamboat.There at that time he said wants to buy me flower. He even told him friends loudly that we have been together for 5 years, but he never bought me any bouquet. His friend all laughed at him, said such unromantic person he is. I was surprise, and also like unbelivable.
The next day, we went back to the pasar for some fresh vege to go back KL. This time, he acted like just so normal. Went to check out the vege around, takes pictures, buy plants, but not my bouquet. Then I asked what about the flowers he said wants to buy me yesterday? He said dont want to buy already since the flowers not nice at all. Frankly, I felt so dissapointed and sad. But I told myself, well, what to expect so much, if I really want some flower, I can buy myself. So I go and get some money from him (my wallet is with him) , wanted to buy.
He refused to give me money, and said dont need to buy its not beautiful not nice at all. Then he said it's time to leave, we should go back to the stall and take back our things. Then he quietly went to the stall where we bought plants just now, and passed me a plastic bag. It's 8 bouquets of flowers! He actually bought it quietly, and wanted to give me as a surprise!
I was so happy that time, that I couldn't even close my mouth, keep smilling and smiling.
Well, to many other ladies in the world, to receive bouquet is not something special at all. I do have a lady colleague who always receive bouque in the office. And although the quality of the bouquet he bought is not so good. But, the sincerity and the meaning behind, is really touching my heart. I'm just so easy to be hoaxed, huh?
Anyway, I am really happy!! =)